Presentations, decks and video's
I'm a regular keynote speaker and teacher on data related topics, like data visualization, data journalism and open data. Here are some of the slide decks I used and some videos of recorded talks.
Talk about Xenographics at OpenVis Conference
May 14, 2018
Paris
I talked about Xenographics also on the great Datastories Podcast. Listen to the episode with me here.
I also talked about Xenographics at the Sustainable Development Goals DataViz Camp at the University of Twente, the Netherlands.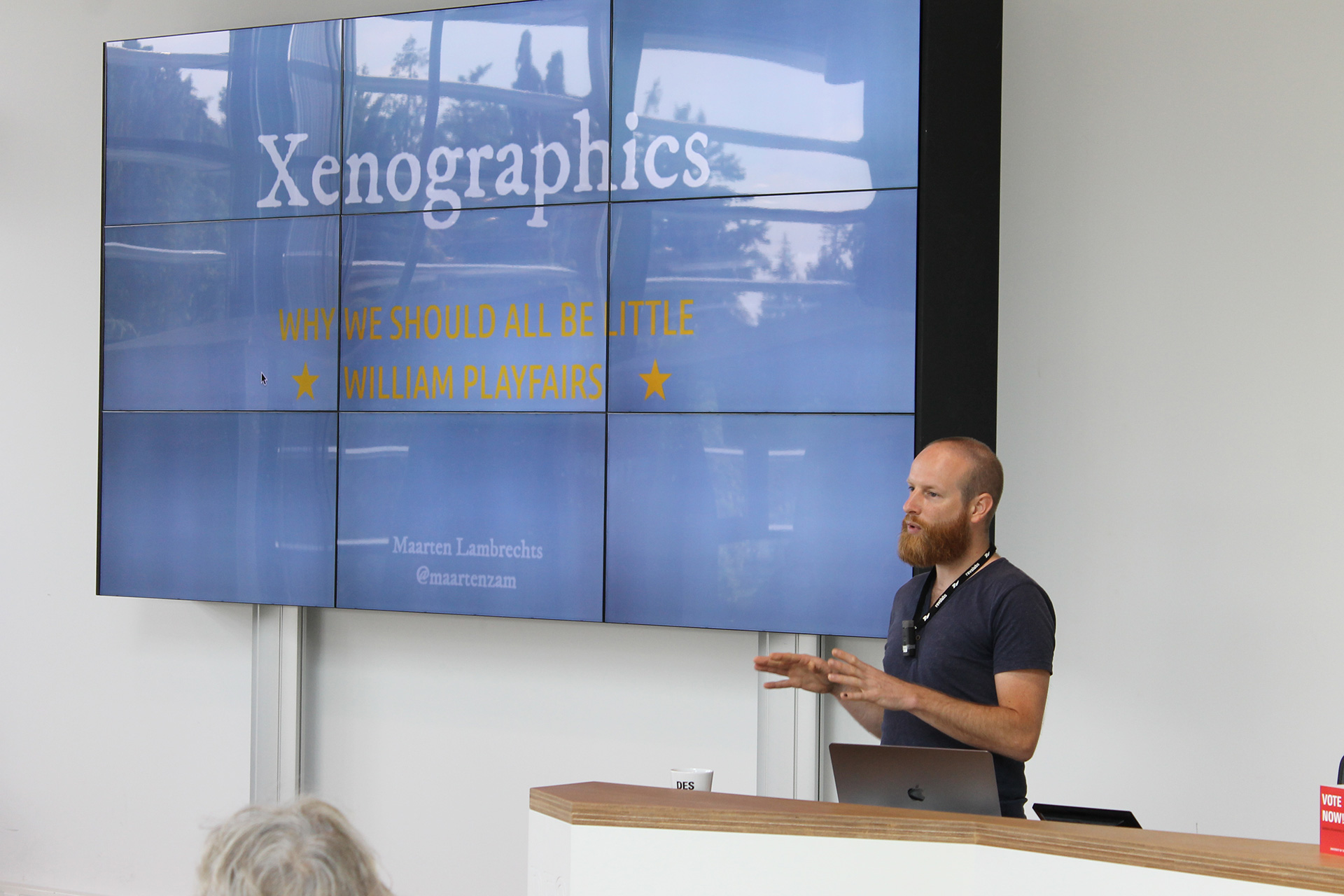 Why your open data isn't really open
March 12, 2018
Open Data Belgium, Louvain-La-Neuve
Questioning open data & data journalism
November 24, 2016
European Committee of the Regions, Brussels, Belgium
Explorable Explanations
September 09, 2016
Visualizing Knowledge, Helsinki, Finland
Xenographics
June 05, 2016
DataHarvest, Mechelen, Belgium
Roll with the Polls
March 11, 2016
Malofiej 24, Pamplona, Spain
What (data)journalists want
February 29, 2016
Open Belgium, Antwerp, Belgium
How Belgium is heating up: a making-of
January 21, 2016
Datascience Brussels Meetup, Brussels, Belgium
Interviews
Maarten Lambrechts on the underused power of explorable explanations and more, by Anastais Valeeva for Open Belgium.
Also available in Russian as Маартен Ламбрехтс об "исследуемых объяснениях" on datadrivenjournalism.ru.
"I believe strongly in explaining complex things visually and interactively" on yourdatastories.eu.
Datadenken is nog niet gebruikelijk in de journalistiek, by Winny De Jong for De Nieuwe Reporter.
Geen woorden maar beelden, by Aaike Geusens.
Interview met Maarten Lambrechts, specialist in datavisualisatie, by Eline Stevens.
Just leave a message, email me or tweet me, I will get back to you as soon as possible.
Maarten Lambrechts
+32 488 242 996
Koningin Astridlaan 65
3290 Diest
Belgium